The Hardware
So now I've got plans for the cabinet, but what's going to go in it? This thing needs to look good, sound good, and feel good, so I need to find a good monitor, decent speakers, nice joysticks and pushbuttons, and a good computer to bring it all together.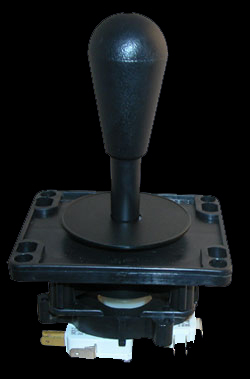 Joysticks
These were left over from my first MAME machine. After I had finished my first upright, a friend's step-dad bought the cabinet off me, not for use as an arcade machine, but to house a CNC router computer. Naturally, he didn't want the joysticks, pushbuttons, or any of the other electronics in the machine. I was more than happy to part it out, as that system was plagued with problems. There was ghosting on the controls from my keyboard hack, the poor Acer just couldn't keep up with the games, Windows 95 (no problem description needed), and the speakers looked horrid.
After musing over the problems of the old machine, I set out to make sure that they would not occur in the new cocktail table.
The machine would be two player, feature 6 buttons per player, and have 5 control buttons - two for coins, two for player one and two start, and one for game exit. I only had 8 buttons from the last project, so I ordered the remaining buttons from Happ Controls along with a few other parts.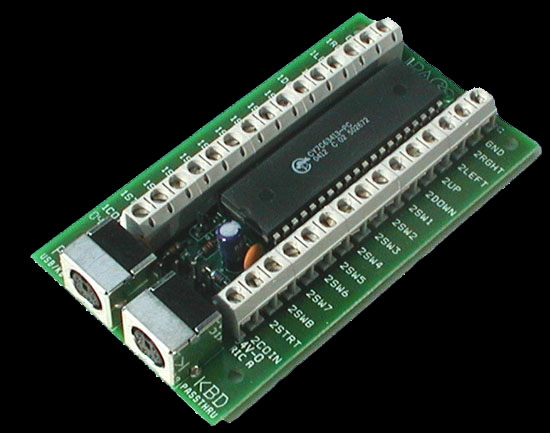 Interface
Determined not to let the problems of the past haunt me, I went back to my research. I ran across a wonderful site called Ultimarc which featured a wonderful product dubbed the I-PAC. I read up on the two-player model and immediately placed my order. After installing and playing with it, I would not hesitate to purchase another. Shipping was wonderfully fast, from London to Texas in 3 days.
Monitor
I have a bunch of monitors. People used to just give them to me. Every now and then I'd pick up a complete computer system at a garage sale for $5 with my eye on a single part. I considered purchasing an arcade monitor, but my budget constraints prevented me from doing so. I could have used a TV set, but I had a ton of monitors handy and was dying to start the project. I went out to the storage shed and grabbed the first monitor I could get my hands on, which just happened to be an old 15" Magnavox SVGA. I used Krylon Fusion to paint the bezel black and a Sharpie to touch up nicks in the paint when I got the finished project to the competition. After a little tweaking of the dimensions to better accommodate the monitor, I moved on to sound.
Sound
Whatever I got, it would have to be shielded. The last thing I want to happen is the colors get all screwy because I put unshielded speakers too close to the monitor. Once again, I headed over to Happ Controls and purchased four 4" shielded speakers and grills. I had a Road Gear 80 watt amplifier that I had purchased at Wal-Mart for the upright, so I decided to use that in combination with the motherboard's on-board sound.
Power/Cooling
Scotty, I need more power! Lets see, there's the car amplifier, the monitor, the motherboard, the hard drive, and two 80mm cooling fans. One power supply should do it, right? Probably. But I wanted to err on the side of caution, so I dropped in a 300 watt for the computer and a 250 watt for the cooling fans and amplifier. I wired both power supplies to where they would stay on constantly (by connecting the green wire and ground on the motherboard power cable) and then daisy-chained the sound/cooling supply to the computer supply via the 110 volt pass through that some supplies have for connecting a monitor. The PC supply and the monitor then connects to a 110v duplex outlet, which is wired to the on/off switch and a computer power connector which I swiped from a burnt out power supply.
The cooling system consists of two 80mm fans purchased from CompUSA which feature blue LED's and included metal fan grills. The fans mount to the bottom and draw cold air into the unit while air holes at the top allow hot air to escape.
Computer
Processing..... I sat down with a box of parts, planning on assembling a 233mhz Pentium II with 64MB RAM, the bare minimum for Windows XP. After suffering numerous failures from these older parts, I attacked my home theater PC with a screwdriver. It had been having issues for months due to software problems and hardware incompatibility. I thieved the hard drive from it to repair the family computer when it went down, and the HTPC had been sitting silent in the corner. So out came the motherboard, processor, RAM, and video card (all of which originally came from Fry's Electronics). This setup sports an AMD Athlon XP 1800+ processor, 512mb RAM, and a ATI/Powercolor 9200se graphics card with 128mb video memory.
Where would we be without storage? Gotta have somewhere to put all those games. On a family trip up north, one of my uncles had just purchased a new Dell and was going to get rid of his old Compaq. So, I carted it off, and, much to my delight, found it contained a 60gb hard drive. Perfect! I used an old CD-ROM drive to load the operating system (Windows XP) and then removed it to save space. An AirLink+ 802.11B wireless card was added so I could easily update games over the network. And last, but not least, the keyboard and mouse. Those were a wireless combo on sale at Fry's for $10. And what can I say, the quality is $10 keyboard and mouse quality. Although, since it's only going to be used for maintenance (in the circumstances where Remote Desktop won't work) anything is better than nothing. I labeled the keyboard and mouse with big stickers that said "COCKTAIL ARCADE" and threw them in a closet.
The Cabinet Cocktail Index The Assembly The Software Finished Handy Links Modifications