SNK Sky Soldiers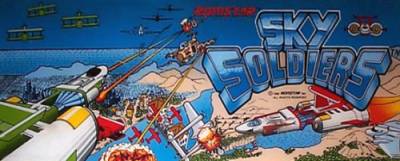 After finding my way over to the Oklahoma Coin-Op Collectors Forum, I had the chance to meet a large group of local people who also held an interest in arcade machines. One of these enthusiasts had a warehouse not far from my home that he decided to move. I had the opportunity to purchase several parts and a few project machines and had found the Sky Soldiers housed in a converted Sega/Gremlin Frogger cabinet sitting off to one side of the warehouse. We drug an extension cord over to it and it fired up.
This cabinet now resides in my garage next to the Space Invaders Deluxe. The cabinet is in good condition and is only missing the back door. The plexi glass on the control panel could probably be replaced one day and the coin door could use a little tweaking, but nothing poses any problems to game play. Overall it is a nice addition to my game collection and is a blast to play, especially with a friend!
As my collection keeps expanding, this may be one title destined to head out the door. I plan to bring it with me to the next Oklahoma Video Game Expo where I hope someone will give it a good home.