Midway Space Invaders Deluxe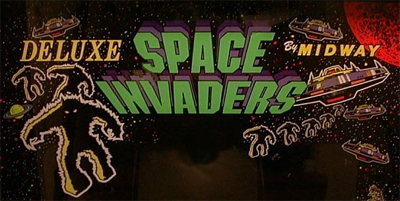 A friend on the Oklahoma Coin-Op Collectors forum had just purchased a new car and needed to thin down his personal collection to fit it in the garage. He posted the Space Invaders Deluxe on the forum, and I quickley sent off an email. Space Invaders is one of my father's favorite games and I thought it would make for a nice gift. While he and my mother were out of town, I took the truck to a neighboring city to the north to pick it up. I pulled into the driveway and began wondering how I was going to unload the machine.
My grandparents were home, however I didn't want to risk any accidents trying to lift the machine out of the truck. Solution? Use the tractor! Our John Deere compact utility tractor has the option of removing the front end loader bucket and quickly replacing it with a fork lift assembly. The forks, paired with a good ratchet strap, made for an easy transition from the back of the truck to the floor of the garage.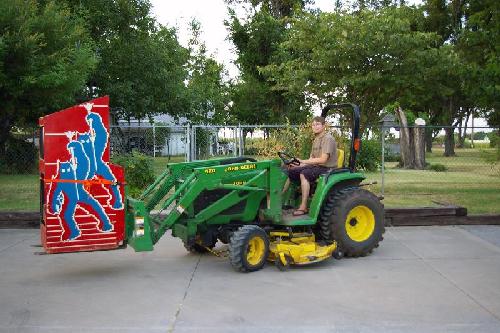 I didn't think much about moving the game this way, however my grandfather thought it would be neat to take some pictures while I was sneaking another arcade machine home. I posted them on the OCOC forum for grins and friend/author/fellow collector Rob O'Hara seemed to be quite amused. Rob has written two books, one of which covers arcade collecting and features an entire chapter on moving games. You can read his blog post about moving games by tractor here.
The Space Invaders Deluxe cabinet is by no means in mint condition, however it is in far better shape than many of the other machines that I have acquired. It is missing both back doors and has a small tear in the control panel overlay. Nevertheless, I was delighted to get one of my favorites into the game room, and Dad was positively thrilled to be able to play one of his favorites again.